At the height of the anger of the employees against the merger of banks, will sit before Parliament
There is considerable resentment among the bank employees of the country over the decision by the Modi government to merge four government banks into four banks. Bank employees across the country have been holding peaceful protests since Finance Minister Nirmala Sita Raman announced the decision last month. Now firmly opposed to the decision, the bank employees have decided to sit before Parliament.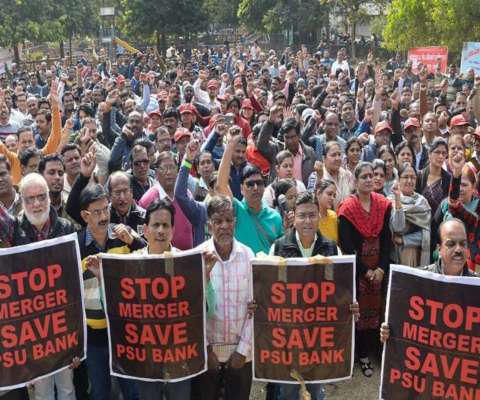 Under this, a joint stage of the 9 banking unions of the banking sector, The United Forum of Bank Unions, the UFBU, has announced to the Parliament next week to oppose the government-announced bank merger plan. All India Bank Employees Association (AIBEA) general secretary CH Venkat Chlam said that the UFBYU has decided to hold a sit-in before Parliament on September 20 at 10.30 am. At the same time, the UFBU has also decided to give a memorandum to Union Finance Minister Nirmala Sita Raman.
Members of the All India Bank Employees Association, protesting the government's decision, had earlier demonstrated on August 31 by wearing a black belt at their own banks. The association's general secretary, CH Venkat Chelm, says the central government has taken this decision at the wrong time and needs to be analyzed. He said the merger meant the closure of six banks, which took years to become. He said that the association will have a meeting in Delhi on going on strike.
It is to be noted that on August 30, the central government announced the merger of 10 state-owned banks and the formation of four major banks. Announcing this, Finance Minister Nirmala Sitharaman said that the government has decided to merge four other banks with Punjab National Bank (PNB), Canara Bank, Union Bank of India and some other public banks in Indian Bank. Under it, the merger of Oriental Bank of Commerce and United Bank of India, Syndicate Bank in Canara Bank, Andhra Bank and Corporation Bank in Union Bank of India and Allahabad in Indian Bank will be made under it. Following this merger, PNB will be the country's second largest bank and the fourth largest bank.
Send