Afzal Guru was made the goat of the victim, actress Sonny Razdan
Bollywood actress Sony Razdan has demanded the inquiry into the execution of Afzal Guru. Afzal Guru has been hanged seven years ago for attacking the Indian Parliament. Bollywood's leading actress Sonny Razdan has demanded an inquiry into the execution of Mohammad Afzal Guru, the perpetrator of the attack on the Indian parliament. He called the execution a "joke of justice," saying Afzal Guru was made a "scapegoat." A tweet from director Mahesh Bhatt's wife and actress Aaliya Bhat's mother, Soni Razdan, about the hanging of Afzal Guru, has sparked strong debate from social media to political circles. Soni Razdan tweeted, "This is a joke of justice. If he was innocent, who would bring him back from death? So the death sentence should not be taken lightly and there should be a solid inquiry that Afzal Guru.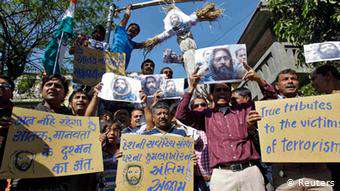 Why the goat was made? " He added in his tweet, "It should also examine how people like Afzal are persecuted and forced to perform terrorist activities and subsequently sentenced to death." " Soni Razdan's tweet came in connection with the January 11 arrest of Devendra Singh, Deputy Superintendent of Police in Jammu and Kashmir. Devinder Singh has been arrested for allegedly traveling on a car with two Kashmiri militants. In an affidavit sent to his lawyer from Tihar Jail, Afzal Guru wrote to Devinder Singh that he had persuaded him to take a man named Mohammed from Srinagar to Delhi. Make proper arrangements.
A man named Mohammed was killed in an attack on the Indian parliament on December 13, 2001. Afzal Guru was hanged in Tihar jail on February 9, 2013 for his alleged involvement in the attack on the Indian parliament. The Indian Supreme Court, in its judgment, said that in order to satisfy the conscience of the people, Afzal must be hanged. Afzal Guru's affidavit at the time of his execution was not taken seriously. Devendra Singh is now being accused of having relations with Kashmiri militants, extortion of people and involvement in drug trade. Their inquiry has also begun. In this, Afzal Guru's affidavit is being discussed. The son of a German mother and a Kashmiri father, 64-year-old Sonny Razdan, is known for his brazen tweet. After the tweet about Fazal Goro, both the support and opposition of Sony Razdan began.