Flour Crisis: Somewhere the bread becomes crushed, the oven is cold somewhere
The flour crisis in Pakistan has intensified. Ovens are closed in Khyber Pakhtunkhwa and four non-bai are arrested while flour prices in Balochistan Sindh and Punjab continue to rise.
The federal government has taken notice of the situation and provincial governments are calling it an artificial crisis, but according to ground facts, people's homes have become deserted and oven in markets.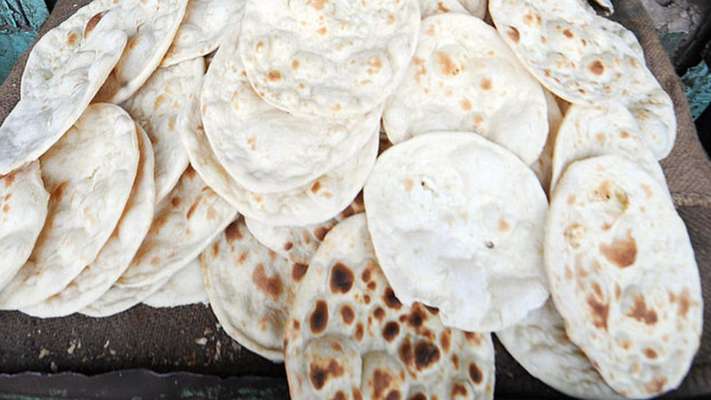 Flour crisis in Khyber Pakhtunkhwa
Khyber Pakhtunkhwa continues to strike non-baibis in various cities, including Peshawar, after flour prices were raised, and police arrested four non-baibs last night.
Non-negotiations have been held with the correspondent Azizullah Khan Government but no progress has been made in this regard which has led to the non-byeing strike from today.
The oven was closed in Peshawar city today, so people continued to use alternative foods like rice and bakery.
Also read
In Peshawar, there is a tendency to order bread in general, which is why there are about 2500 non-bais in the city.
Khyber Pakhtunkhwa Non-Bai Association President Haji Mohammad Iqbal told the BBC that up to a month ago 85 kilograms of fine flour cost up to Rs 4000 but now it has reached Rs 5000 while this time. The price of gas has also increased. How could it be that they do not raise prices and the government is forcing them not to increase the price of bread, he said.
Haji Iqbal said that in Peshawar, the price of 170 grams of bread was fixed at Rs 10 in 2013, which has continued till now but during this period the prices of flour and all other items have increased manifold.
In talks with the government, the non-baibi demanded to set the price of 150 grams of bread at Rs 15 while the government was insisting on 170 grams of bread. Haji Iqbal said that he told the government that he was also willing to take 170 grams of bread to avoid the strike but the government was refusing to issue a notification.
The BBC is locked in several oven
In Peshawar, non-baiyans do not sell bread at a fixed weight. Most nonbai sells up to 100 grams of bread and in some areas the weight is even less.
Mohammad Ishaq, a local resident of Hayatabad in Peshawar, said that here, the non-women have made paapuri from Peshawar naan, the bread becomes so hard that even if it is cold, there is no eating.
The government seems to have failed to resolve the issue so far. Nonbeds receive money for fines, but the weight and quality of bread are not taken into account.
Haji Mohammad Iqbal said that the federal government issued a permit a month ago to send flour to Afghanistan, which eliminated wheat stocks in Khyber Pakhtunkhwa and now the province is the most affected.
A large quantity of flour bags were lying in the throat market near Rampura Gate in Peshawar. These flour dealers said that the price of 20kg flour was originally up to Rs 850 a month ago and now it is priced at Rs 1100. These dealers did not disclose their names and said that the increase in the price of flour has reduced the number of buyers.
Getty Images
An flour dealer said, "He brings 20 kg flour bag from Rawalpindi Islamabad for Rs 1030 which costs Rs 30 per bag and he sells for Rs 1080 or 1100. Now the government does not own the floor mill. Ask why he made the dough expensive. '
Provincial government says wheat from Punjab is being supplied to Khyber Pakhtunkhwa floor mills and the flour crisis will be overcome soon.
Flour crisis in Balochistan
In Balochistan, flour prices were already higher than in other provinces.
According to reporter Mohammad Kazim flour dealers association Balochistan President Khudaidad Khan, 20 kilograms of flour has been priced in the city of Quetta from Rs.
Flood prices in Quetta and Balochistan started in October last year.
Prior to October, 20 kilograms of flour cost Rs 850 but since then its prices have been steadily recording.
The government of Balochistan suspended Secretary Food and Director General Food late last year in view of the wheat and flour crisis.
The Balochistan government had suspected that they did not buy wheat in a timely manner which led to the flour crisis.
However, the suspended officials said that the wheat they were told to buy from Nasir Abad, Balochistan, was defective because they did not buy the wheat.
The flour market in the open market will increase further if the government does not ensure supply of wheat to flour mills in Balochistan, said Khodaidad Khan Kakar, president of the flour dealers association.
Balochistan spokesman Liaquat Shahwani said the government was trying to overcome the wheat and flour crisis.
He said the government of Balochistan had asked Pasco to supply 2.5 million sacks of wheat.
He said that for a week and a half this wheat would be handed over to the government of Balochistan.
On the other hand, Chief Minister Balochistan Jam Kamal Khan has taken notice of wheat and flour crisis.
He directed all the Commissioners and Deputy Commissioners in their divisions and districts to ensure the supply of flour and wheat at the government fixed rates.
He instructed government officials to buy wheat