Pune: All officers, including the municipal commissioners, are in the field of cleanliness
MPC News - Pune Municipal Commissioner Saurav Rao inspects the clean survey at night. During this time, he took a broom that was unclean in the Gautiram Bhaiyya Chowk and took a broom and clean it. On the night of Makar Sankranti (15th), the Commissioners inspected the city for cleanliness.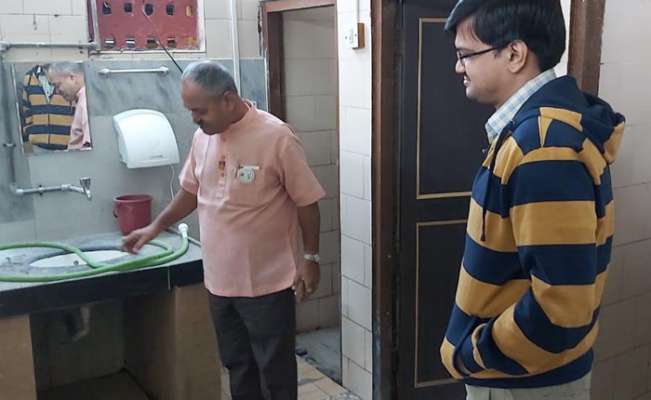 WARJAY - Starting from the boundary of the Karvenagar Regional Office, trash and gutkha were found in the middle of the city around the leaflet of the Gottiram Bhaiyya foreign outpost on Shivaji road and in the middle of the city. The commissioners asked for the answer and forced the stall holder to take a broom in his hand.
Earlier, it was recalled that the spitters were cleaning themselves in the street by taking massive action on the spit on the road. So far, penalties have been recovered to the tune of Rs. 8.5 crores by imposing punitive action on the citizens of 4000 roads.
For the past ten days, the Commissioner, along with the Deputy Commissioner Madhav Jagtap, Additional Commissioner Shantanu Goyal and Dhaneshwar Molak, the head of the solid waste management department, have raided the entire city. Starting with rounds at night and early in the morning, along with proper instructions and guidance, other department assistance is being provided. Due to this, all the mechanisms have been worked out and on the actual field, all the parent account heads, deputy commissioners, six commissioners are working hard to come first in the clean survey. All the cleaning staff is working day and night for the clean waste and solid waste management department.
Also, all the municipal waste projects have been working and 3 metric tonnes of garbage generated in Pune city has been in process since last 3 days (January 3) and the NGT and Fursungi-villagers have demanded that open doping should not be fulfilled. Mission 2: Vision Zero-2 is definitely being fulfilled by the administration and municipal officials believe that Pune will be the first to overtake Pune Indore in Survey 1 this year.