Sanjay Raut Belgaum: Are you afraid that the country will not be partitioned again?
Shiv Sena leader Sanjay Raut is visiting Belgaum today. Banks in Belgaum He will be attending a lecture organized annually in memory of Nath Pai.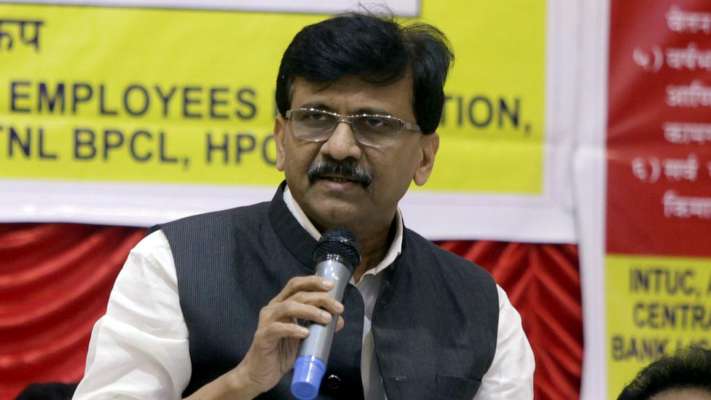 Their open interview is ongoing in this program. The points in this interview
1. This war is not in Kauravas-Pandavas
Although the languages ​​are different, we do not want to argue between the two states and the people. Because the country is one, Sanjay Raut said. The Belgaum case is just that. We are people who believe in events. This is a cultural dispute. Our Marathi people also live in other states. Sanjay Raut said that we should work to maintain this Marathi asmita wherever we are. The controversy between Marathi and Kannada speakers is not a battle of some Kauravas-Pandavas, it is a dispute between Pandavas and Pandavas, "said Raut.
2. 'Muslims need to have counseling'
The Hindutva of Shiv Sena belongs to Gadge Maharaj. It is our Hindutva to give thirsty water and feed the hungry. Sanjay Raut said this. It is not our politics to quarrel between two communities. Muslims should live as Indians. The statement should be consulted, said Sanjay Raut. Poison is being poured into the minds of Hindus. They too need counseling, "said Raut.
3. The Kashmir issue should not be a Hindu-Muslim issue
The situation in Assam and Kashmir has worsened. We congratulated the cancellation of Article 370 but now the situation is dire. The issue has become Hindu-Muslim. But this should be India's point. At present, it is as if there is division among the people. If we continue on the basis of religion, our situation will be like that of Pakistan. "I am afraid that the country will not be partitioned," Raut said during the interview.
4. The ruling party does not want opposition
At present, the ruling party does not want the opposition. Pt. In Nehru's time, opposition leaders like Atal Bihari Vajpayee were respected. But now the ruling party at the center feels that it is not the opposition. Your saints said that the house of the slanderer should be a neighbor. This is a true Hindu culture but the rulers do not want any opposition.
5. Shiv Sena-BJP relations
After the demolition of the Babri Masjid, other leaders shook hands but Balasaheb said that if Shiv Senais had done this, we are proud of it. Thereafter elections were to be held in Uttar Pradesh.
Shiv Sena had fielded candidates at some places, but Atal Bihari Vajpayee requested Balasaheb Thackeray to withdraw the candidate. Opponents will benefit if we fight among ourselves. Balasaheb was very mild in Hindutva. They immediately withdrew their candidates. We would have had at least 20 candidates. Raut said that this was a Shiv Sena-BJP relationship.
When Sanjay Raut entered Belgaum, he was stopped by the police for some time at the airport. The city is in a state of tension and you advised you not to leave. Their settlement has also been increased.
ANI
✔
@ANI
Shiv Sena MP Sanjay Raut: Policemen are escorting me and taking me to an unknown destination from Belgaum Airport. #Karnataka https://twitter.com/ANI/status/1218471372411699201…
ANI
✔
@ANI
Karnataka: Shiv Sena leader Sanjay Raut arrives at Belgaum Airport.
View image on TwitterView image on Twitter
665
2:03 AM - Jan 18, 2020
Twitter Ads info and privacy
236 people are talking about this
He was troubled by some of the statements he made at a recent event in Pune, Lokmat. After that they had to withdraw their statement.
Sanjay Raut
✔
@ rautsanjay61
Maharashtra Minister Rajendra Yedravkar shocked Karnataka police
Will Maharashtra BJP protest simple Karnataka terrorism?
I am going to Belgaum tomorrow.
Let's see what happens.
Jai Maharashtra
6,024
2:50 AM - Jan 17, 2020
Twitter Ads info and privacy
1,261 people are talking about this
Minister of State for Health Rajendra Patil Yadravkar, who had attended the Martyrs' Day program in Belgaum, was taken into police custody by police and released.
Martyrdom Day is celebrated on 17th January in Belgaum and Border areas. Karnataka police had launched an investigation on the highway from this morning to prevent him from coming to Maharashtra. However, Yadravakar, who reached the program site by bus of Karnataka State Transit, was stopped there.
A few days ago, during the winter session of the Legislative Assembly, Chief Minister Uddhav Thackeray had mentioned the border as "Karnataka-wide Maharashtra". "Through the citizenship reform law, the central government is considering Hindus coming from overseas. Then why not Hindus living in Belgaum? What was the question of Hindus from Belgaum, Karwar and Nipani? All parties should come together to bring part of Karnataka-based Maharashtra to Maharashtra," he said. They said.
How did the controversy over Indira Gandhi begin?
Sanjay Raut was interviewed during 'Lokmat' award ceremony. The then Prime Minister Indira Gandhi had met underworld don Karim Lala, Sanjay Raut said.
After his statement, a rift broke out between Congress and Raut.
Congress leader Milind Deora